Dear Friends of Pacita,
We hope you, your family, and your pacifiers are staying away from viruses, hurricanes, and wildfires in these unprecedented times.
A few days ago, we released our first book "Pacita the Pacifier Fairy", a children's poetic fairytale about growing up and learning to let go of pacifiers. It's been an absolute blast to see our first readers' feedback.
A wonderful start with warm reactions
Because of the pandemic, we haven't been able to have in-person book presentations like we had originally hoped. However, the book has already received a lot of great reviews and we wanted to share them with you.
On both Goodreads, and NetGalley, the book is rated over 4 stars (out of 5) from more than 40 reviews. Here are some of the highlights :

"This is an utterly adorable tale putting a spin on pacifiers I have never seen before! I'm totally impressed." Briar's reviews
"This book is packed full of vivid, detailed, and immersive illustrations that depict the story being told very well. They're really vibrant and I'm sure kids will fall in love with them" Oyinda
"This book is like a poem for the lil kids, helping them thru the journey of growing up and having to let go of the pacifier: well colored, nice illustrations. The sentences rhyme and are cute." Kimmy's book journey
"With the rhyming of each page, kids will definitely want to read this one over and over!" Kaitlyn W, Librarian
Where can I purchase the book?
Due to the COVID-19 crisis, the whole book industry has been extremely impacted and a lot of booksellers are still closed. Some have reopened though, and you can order Pacita the Pacifier Fairy from them if, like us, you want to support local businesses (ISBN-13: 9781733456807).
Obviously, you can also order the book online from the major platforms, including Amazon, Barnes & Noble, Walmart, and our distributor Itasca Books. If you do decide to order it from one of the larger sellers, please don't forget to leave a review of the book. We would greatly appreciate it!!
Last but not least, you can also order it directly from the Big Kid Chronicles website (there's a cool collector's edition there with a signed copy of the book, a coloring book, and printed letters from the Pacifier Fairy):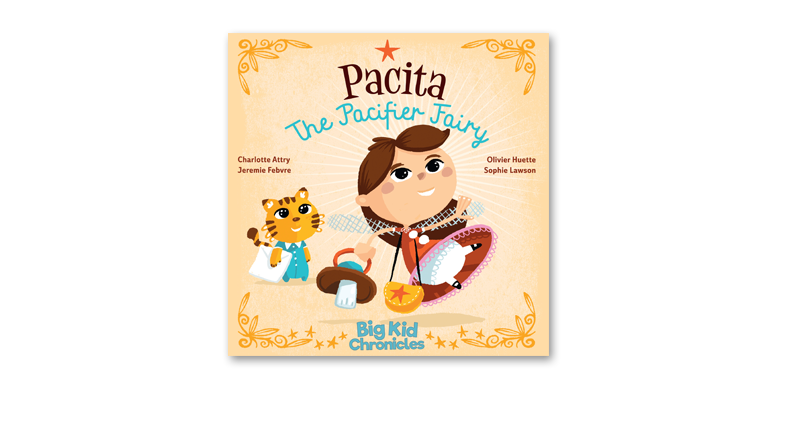 Pacita the Pacifier Fairy
A heartfelt story about growing up and learning to let go of pacifiers, complete with 4 pages of bonus material containing expert advice and tips for parents.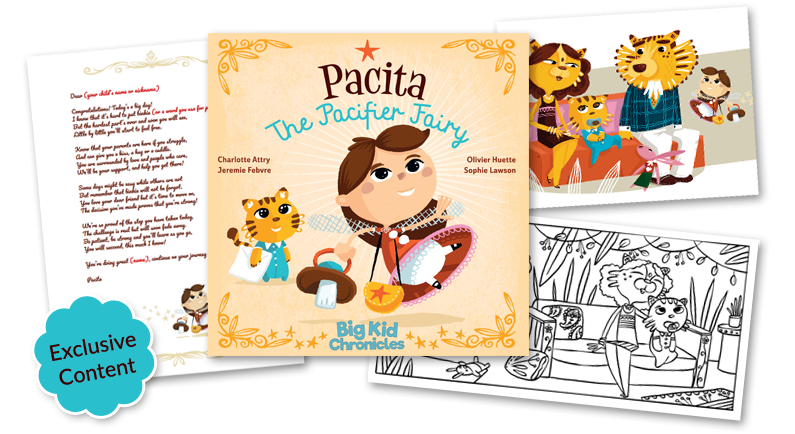 Pacita Collector Edition (signed)
An exclusive signed edition of the book, with a limited postcard, a 5 sheet coloring book, and paper letter to write your own letters. Only available on bigkidchronicles.com.
Of course, this is just a start and we will keep you updated on the next steps, very shortly we hope. In the meantime, stay safe, stay healthy, and feel free to reach out if you have any questions.
One last thing: If you want to help us promote the book, you can also share our book trailer on social media.
Thanks!